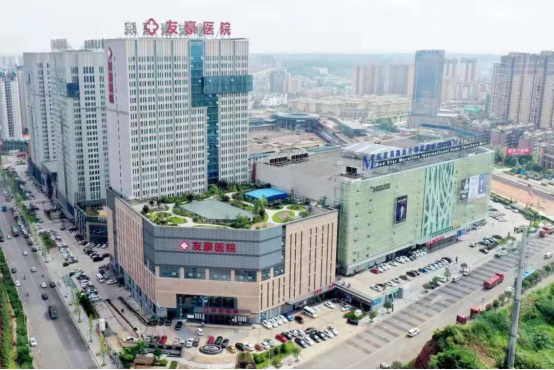 Nanchong Youhao Hospital is a large-scale comprehensive hospital approved by Nanchong Municipal Health Commission and built according to the standards of Grade A tertiary hospitals, with a gross floor area of 82,671 square meters, 875 beds and a total investment of 860 million.
Since its establishment, the hospital has joined the Medical Group of the Affiliated Hospital of North Sichuan Medical College, becoming the joint ward of the Affiliated Hospital of North Sichuan Medical College. The hospital now has more than 190 clinical experts, including more than 60 professors and chief physicians, and more than 130 associate professors and associate chief physicians.
The hospital has set up more than 20 first-level departments, including internal medicine, surgery, obstetrics and gynecology, paediatrics, emergency medicine, medical laboratory, medical imaging, ENT, dermatology, ear-nose-throat department, anesthesiology, rehabilitation medicine, traditional Chinese medicine, medical cosmetology, and prevention and health care. There is also a confinement center. The hospital has such large equipment as Philips 1.5T MRI, Philips 64-row 128-layer spiral CT, digital gastrointestinal machine, Philips quantum DR, DSA, and American GE 4D color ultrasound.
After the Healthcare and Medical Division of Tianfu (Management) Group Co., Ltd. conducted a comprehensive custody management of Nanchong Youhao Hospital in July 2018, it has clarified its development ideas, made clear its development path, and optimized its human resources plan. The hospital has made great progress in popularity, medical quality, business project development, hospital management and business income. It achieved an operating income increasing from RMB 13.8 million in 2018 to 40.9 million in 2019, showing a good momentum of development.